If you are looking for fun ways to enjoy the great outdoors this season, then you won't want to miss out on all Carmel-by-the-Sea has to offer. Here, you and your family can make memories together at a number of beaches, parks, and outdoor recreational areas.

From its hiking trails to beautiful lookout points, you will quickly see why this enchanting beach city is a highly-anticipated destination. Whether you're planning a weekend getaway or considering a move here, you surely won't be disappointed by the sandy beaches, vibrant water, and charming aesthetic of Carmel.

Located in Monterey County, Carmel was officially established in 1902 and has attracted people from all over the world ever since. Because of its rare and vibrant beauty, it's earned a reputation as the perfect place for some much-needed relaxation. Are you ready to feel the sunshine on your face and breathe in the fresh air? Then how about packing your picnic basket, grabbing some sunscreen, and coming to one of these spectacular beach locations! As you explore scenic pathways and take a walk on the soft beaches, you and your family can make treasured memories together that will last a lifetime.

1. Carmel River Beach
The mile-long Carmel River State Beach is a popular and gorgeous haven for travelers and locals. This beautiful oasis is perfect for walking your dog or basking in the beautiful views. Visitors to this location are advised to watch out for incoming tides or changing weather.

This is the ideal beach for taking photographs and observing a wide variety of birds. With its sparkling blue water and crisp, sandy beaches, Carmel River Beach is just the place for a great day in the sun with your loved ones. Guests of all ages can enjoy a fun day here.
2. Point Lobos Loop
Are you longing to explore the coast and become captivated by the natural beauty of the great outdoors? Then Point Lobos Loop Trail is the perfect fit for you! With its brilliant blue-green water, pristine shoreline, and magnificent rocky hillside in the background, this 6.7 mile long trail will excite everyone who makes the journey. It is also an incredibly children-friendly beach with exciting things to do such as nature walks, birdwatching, strolling along the shoreline, hiking, and running.

The scenery here is bursting with vibrant wildflowers, luscious green vegetation, and an abundance of walker-friendly paths. While here, you might also catch a glimpse of sea lions and other ocean wildlife. September is a prime time of the year to visit because of the mild weather and ample sunshine.

If you are feeling tired or needing a break along one of the trails, you will find plenty of rest stops along the way. As you pause here, you can admire the gorgeous view around you and snap some photos to take home with you. Besides its picturesque landscape, another reason why Point Lobos makes a great vacation destination is its close proximity to Big Sur and San Francisco. Whether you are wanting to come for the day or just stop along the way to the city, you and your crew can have lots of fun while exploring here.
3. Point Lobos Natural Reserve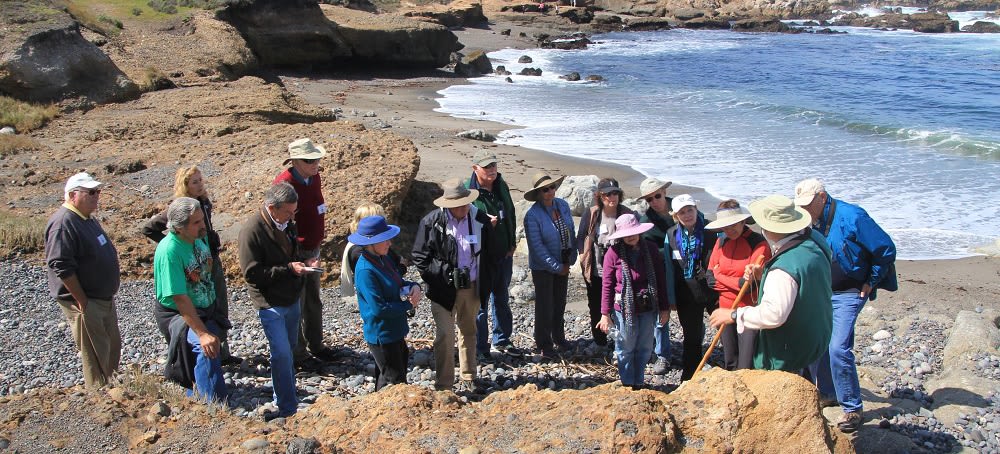 Credit: Point Lobos Reserve

On your travels, you won't want to miss a visit to the marvelous Point Lobos Reserve. Known far and wide for its mesmerizing beauty, vivid colors, and array of exotic sea creatures, the reserve is a refreshing experience for all who come. It is a natural oasis for wildlife of all kinds and a great way to enjoy the great outdoors.

While you are here, you can connect with nature and learn about the unique kinds of animals who reside here. The preserve prides itself on offering an educational and informational experience for people of all ages. You can participate in guided tour walks or explore the different trails in the reserve. Along the pathways, you will discover informational displays which tell stories and facts about the local flora and fauna. As you explore this greatly loved and treasured place, you will be inspired to come back time and again.
4. Mission Trails
The 34-acre Mission Trails Park Loop is made up of three miles of hiking trails and a beautiful garden. There is a diverse landscape to discover such as the Monterey Pine Forest, prairieland, and wetland. Officially established and opened to the public in 1979, the park started as an inviting space for people to enjoy nature and has continued to be this haven. With its vast array of trails and walking paths, this is the perfect place to make special memories, go on a walk, or have a picnic together as a family.

Nature lovers of all ages will be enchanted by all the trees and trails to explore here. Since it is easy to access, Mission Trails is a great place for families with children, dog walkers, walkers, and hikers.
5. Garrapata Park
Garrapata State Park is located south of the Carmel Highlands and is Big Sur's northernmost park. It features high, craggy hillsides and overlooks the ocean below. One of its main attractions is the gorgeous Soberanes Canyon with a steep trail running through it.

On your hike, you can stop along the way and enjoy countless panoramic views. This wild and beautiful park is fairly undeveloped at the moment. Because of this, guests are encouraged to bring their good walking shoes, a water bottle, and a walking stick if desired.
6. Julia Pfeiffer Burns State Park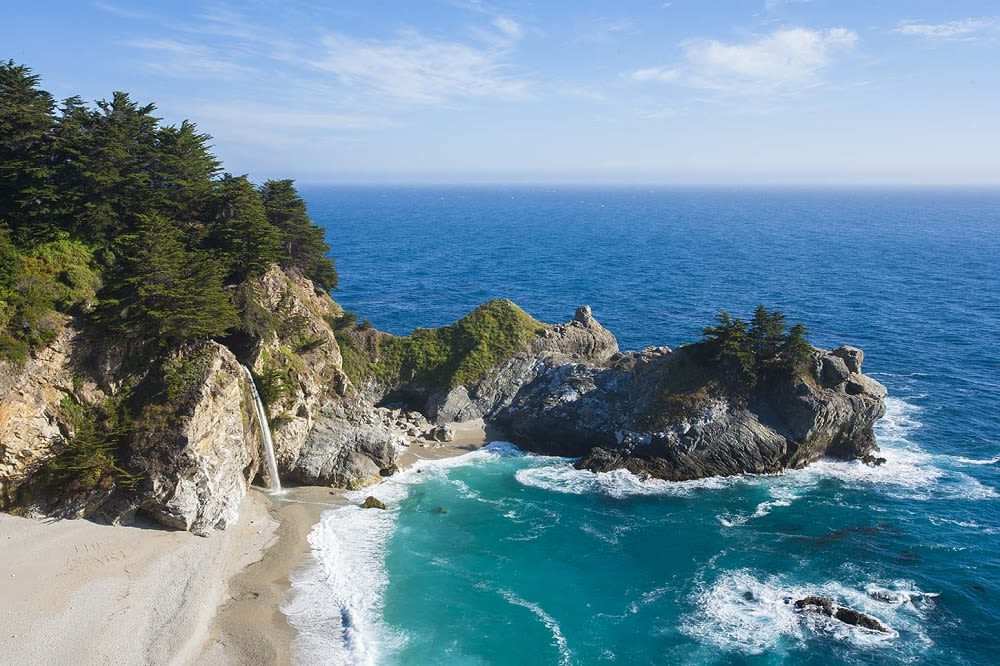 Credit: Redwood Hikes

With its breathtaking views and gorgeous cerulean-blue water, Julia Pfeiffer Burns State Park is an absolute favorite of all who come here. It is a great place for a vacation getaway or a day of exploring outdoors. When you arrive, you can choose from a fun variety of exciting and fun things to do. For example, you and your group can hike up the Waterfall Overlook Trail. This easy-to-use trail dips under the highway, twists around McWay Cove, and then leads to a beautiful lookout point over the waterfall. This is a great time to capture some amazing photos and breathe in the fresh air.

As you are surrounded by the luscious green vegetation and sparkling waters, you will find your heart and mind inspired. Venture along wooded paths, enjoying the beauty of its verdant hills and crystal-blue waters. You will discover there are plenty of reasons to love the majestic park.
7. Carmel Meadows
The gentle Carmel Meadows Trail is easily accessible for hikers of all skill levels. With its wilderness feel and glimmering water in the background, this trail is a great place for an outing with family and friends. It is a pet-friendly location as well so you can bring along your beloved dog to get some sunshine and exercise.

As you journey along the loop, you will notice the abundance of colorful wildflowers and the wilderness feel of the trail. Because of its nice climate, Carmel Meadows is open and accessible all year-round. This makes it a fantastic place for hikers and walkers to use in every season. So what are you waiting for? Get the kids, the dog, and head out for a fun day in the sun!
8. Monastery Beach
If you are looking for a great beach to take a walk at and get some sunshine, then how about Monastery Beach? This is an ideal location to get away from the bustle of life and enjoy some much needed relaxation. This one-third mile long beach is a great place to bask in the beautiful landscape and have a fun BBQ with friends. Because of the strong rip tides here, swimming is not recommended.

This is also a popular location for experienced scuba divers. There are plenty of fun things to do here such as going on walks, bringing the dog for a day outing, taking pictures, and relaxing on the shore with a good book in hand.
9. Granite Point
The exciting and diverse Granite Point Trail will take visitors through the pine forest, by the glistening shoreline, and along the grassy hillside. On the way, you can stop at the various lookout points and enjoy breathtaking views of the world around you. Here you can also discover wildlife in its natural habitat and an abundance of wildflowers, especially in the spring and summer.

Are you wanting a great trail to explore as a family? Or looking for a unique way to spend quality time with friends? If so, then you will definitely want to come to Granite Point for your day out in nature. Don't forget to grab some snacks and bring sunscreen!

For more information on Carmel real estate, contact the Oldham Group. Their top-notch real estate agents will be able to answer any questions you have and help you find your dream home in beautiful Carmel!