In today's competitive housing market, it's important that your home stands out so you can list high and sell fast. In the booming Bay Area, Palo Alto currently scores an 88 on a 1-100 scale, with 100 indicating the most competitive market. As your Palo Alto realtor can confirm, the average Palo Alto home sells after only nine days on the market. The most competitive Palo Alto luxury homes on the market have been selling at 15% above the asking price.
With home prices in Palo Alto up by more than 20% since last year, now is the time to focus on the curb appeal of your Palo Alto luxury homes. According to a study conducted at Michigan State University, homes with higher curb appeal can increase a prospective buyer's perceived value of the home by up to 11%. Here are six tips that will help you increase your home's curb appeal and sell above your asking price.
1. Upgrade your driveway
Palo Alto luxury homes that appeal to buyers are elegant and well-kept, and their driveways should be no exception. Upgrading a home's driveway can modernize the look of the entire property.
Pavers in shades of charcoal or platinum gray arranged in geometric patterns can give your Palo Alto luxury home an elevated look. If you favor simplicity, a traditional, freshly poured asphalt driveway will spruce up the front of your home without taking attention away from the home itself. Just make sure the style you choose for the driveway complements the outside of your home, and you'll be on your way to increased curb appeal.
2. Elevate Your Landscaping
Landscaping can make or break the curb appeal of Palo Alto luxury homes. From trees and shrubberies to decorative rocks and flowers, there are so many ways to boost curb appeal with landscaping.
First and foremost, don't overlook the lawn. Keep it well-watered, trimmed, and free of weeds, since a tidy lawn has been proven to increase resale value. Based on national averages, it has been estimated that spending roughly $270 on lawn care adds about $1,200 in home value, so it's worth it to put effort into maintaining your lawn.
Palo Alto luxury homes can also benefit from creative landscaping. A study conducted at Virginia Tech found that "design sophistication" affects the value of a home, so adding elements such as island garden beds or shade trees can significantly add to its curb appeal. If you need inspiration or guidance, your Palo Alto realtor can show you examples of Palo Alto luxury homes with high-quality landscaping.
3. Style your windows
Windows are prominently featured in Palo Alto luxury homes and are the perfect place to add some style and increase the curb appeal of your home. You can add decorative shutters for a charming pop of color. Make sure the shutters you choose match the size and shape of your windows for a put-together look.
Window boxes are also a simple way of making a window more visually appealing. Succulents, flowers, herbs, and hanging vines are all great candidates to plant in window boxes in Palo Alto luxury homes. Adding these finishing details to your windows brightens up the outside of your home in a subtle, classy way.
4. Enhance the exterior
As your Palo Alto realtor can tell you, a home with a beautiful exterior will attract prospective buyers. Fresh paint can go a long way in helping Palo Alto luxury homes look their best. Soft, neutral-toned colors look sophisticated on the exterior of Palo Alto luxury homes. You can opt to paint the door in a contrasting color for a bold look.
If you want to go all-out, you can redo the exterior of your home and replace the siding entirely. If you go this route, make sure you choose a siding material that properly insulates, is easy to maintain and will last a long time — your prospective buyers will appreciate it for years to come.
5. Replace lighting fixtures and mailbox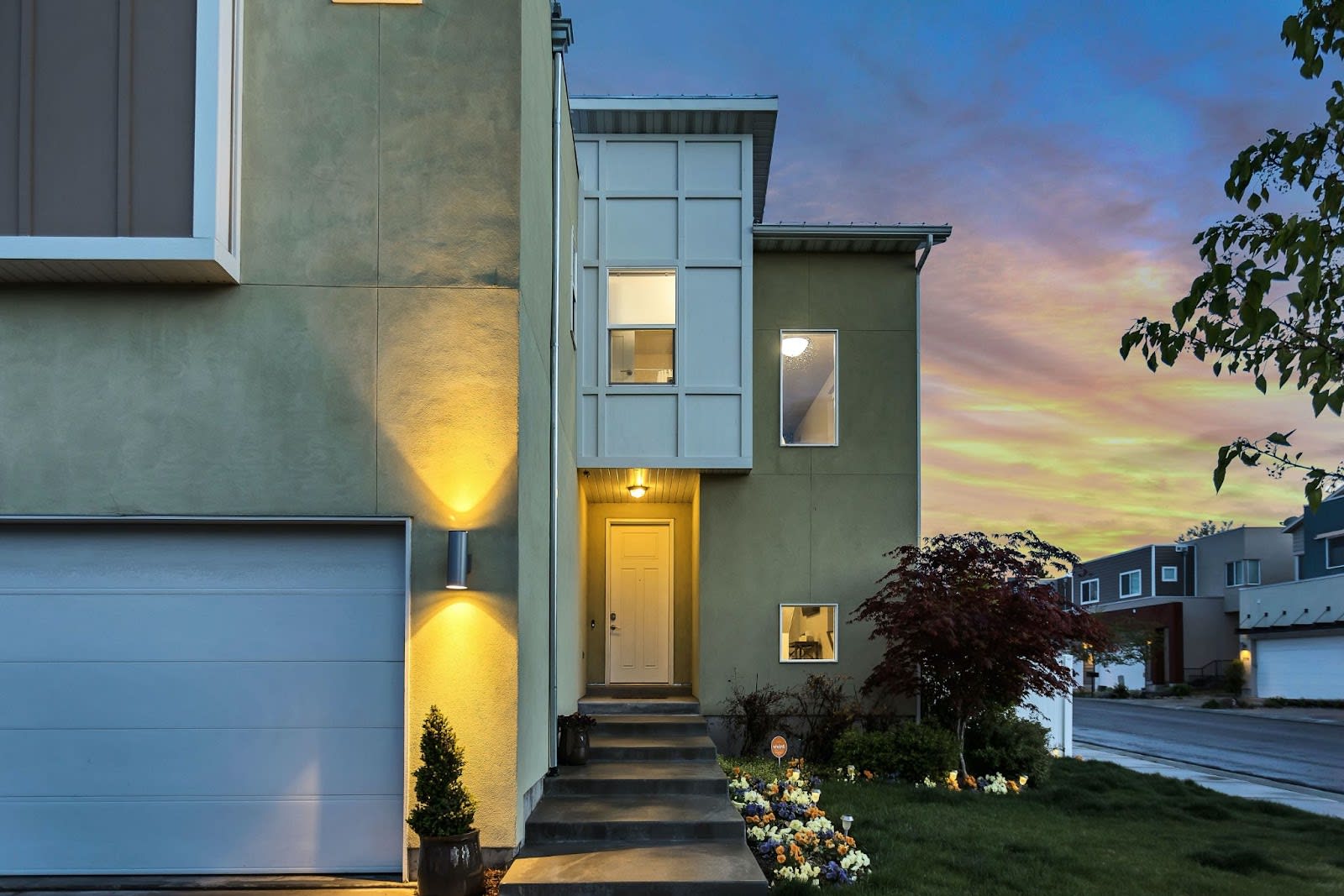 You wouldn't want a prospective buyer to breeze past your home without a second glance just because it's dark out. Light up your Palo Alto luxury homes with modern lighting fixtures that serve as design elements as well as illumination sources. You can choose from wall sconces, pendant lights, or post lights to accentuate the style of your home. You can even incorporate a post light into your island garden bed to showcase your landscaping at night.
Choosing light fixtures for Palo Alto luxury homes is an important decision, as these fixtures will shape the first impression a potential buyer has of your home. Palo Alto luxury homes can also benefit from the addition of small details such as a mailbox out front. Mailboxes are the perfect place to display house numbers of Palo Alto luxury homes and can be designed to match the light fixtures, shutters, and window boxes you've chosen.
6. Clean and power wash
Palo Alto luxury homes truly shine when they are sparkling after being freshly cleaned. To start, you'll want to sweep the porch area and wipe down the windows. As far as cleaning the exterior, nothing spruces up the outside of Palo Alto luxury homes more quickly than a good power wash. While you're at it, you may want to power wash the driveway and any walkways on the property as well. The cleaner and brighter Palo Alto luxury homes are, the more appealing they will be to potential buyers.
A Palo Alto realtor can show you examples of homes in your area with great curb appeal to inspire you as you upgrade your home. Once you've taken steps toward increasing your home's curb appeal, reach out to a Palo Alto realtor like those at The Oldham Group for expert guidance during the selling process.