Carmel-by-the-Sea is a charming beach town located in California's Monterey Peninsula. It is known best for its historic Carmel Mission, fairytale cottages, and galleries. This artistic town has a rich history with many landmarks that follow. Take a glimpse into the past and present of this fascinating city by visiting these historical sites.

Tor House & Hawk Tower
Upon first seeing the untouched natural beauty of the Carmel-Big Sur coast south of the Monterey Peninsula in 1914, Robinson Jeffers and his wife, Una, knew they had found their "inevitable place." Over the next decade, Jeffers built Tor House and Hawk Tower using granite boulders gathered from the shore of Carmel Bay. Jeffers built the home in 1918 for his wife and their twin sons, naming the cottage Tor after the rocky bluff on which it was built. He wrote all of his major poetic works in that house, writing detailed narratives about the coast.

In 1920, the poet and builder began working on the whimsical haven enjoyed by his wife and children, Hawk Tower. An exceptional accomplishment, Jeffers completed the tower by himself in only four years! His cottage and tower were visited by many influential cultural and literary figures, including Langston Hughes, Charles Lindbergh, Charlie Chaplin, and George Gershwin. These landmarks are carefully preserved to this day by foundations.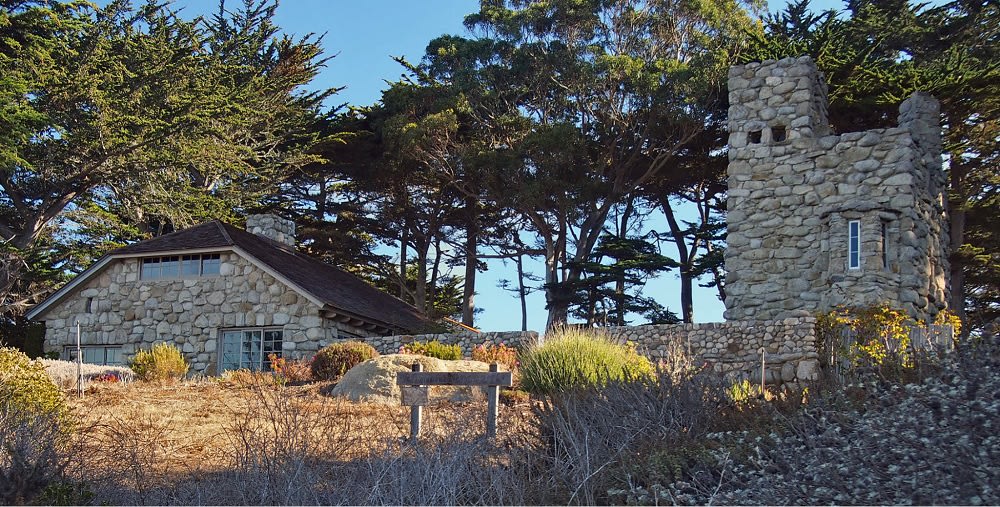 The Robinson Jeffers Tor House Foundation is a nonprofit organization of volunteer members that maintain and provide public access to Tor House, Tor Tower, and the surrounding gardens. Their mission is to preserve the collections of buildings, promote the literary and philosophical legacy of Robinson Jeffers, and serve the community as a cultural resource. Jeffers hand-built estate and fortress are genuinely a sight to behold and are worth visiting.
Basilica of San Carlos Borromeo de Carmelo Mission (Carmel Mission)
Carmel Mission is a Spanish mission that Father Junipero Serra founded in 1770 in Monterey. In 1771, the establishment was relocated to the Rio Road site, as Carmel-by-the-Sea was decidedly a more appropriate location for its purpose. The mission's courtyard and garden are maintained immaculately and are peaceful retreats regardless of the many events and services. This remarkable place of worship is still active today and has expanded to include museums.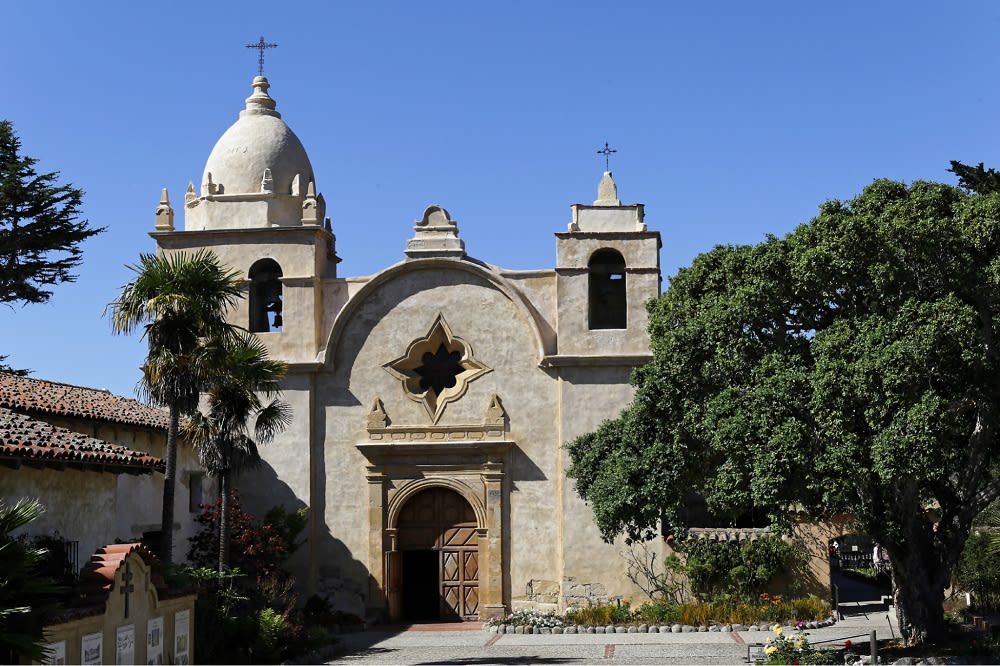 Get a glimpse into Carmel's past by visiting this gorgeous and peaceful place of worship that features a church, a garden, and internal exhibits. There is much to learn about history and art in this sanctuary. The museum features four galleries that give insight into the history of the Monterey Peninsula and all of the California Missions. If you'd like a thorough guide of the establishment, you can go for a docent-led tour or go the self-guided route. Be sure to stop by the Carmel Mission to view beautiful art, learn some history, pick up a souvenir at the Carmel Mission Store, and meditate in the stunning garden.
Point Sur Lighthouse
Point Sur was known to be a navigational hazard and saw many shipwrecks in its past. The 1880s brought lighthouses and lightships to lessen these accidents, providing invaluable warnings to the many ships traveling close to the coast. The Point Sur State Historic Park is home to the Point Sur Lighthouse and its surrounding buildings, which sit atop a volcanic rock jutting into the Monterey Bay National Marine Sanctuary.

Point Sur was first lit on August 1, 1889, and is still used today, now featuring an upgraded aero-beacon guiding ships along the treacherous Central California Coast. When the lighthouse was automated between 1889 and 1974, lighthouse keepers and their families lived at the site. Opt to take a three-hour walking tour of the station -- offered year-round -- to peer into history's past and snap some photos of this fascinating marvel.
Fisherman's Monterey Wharf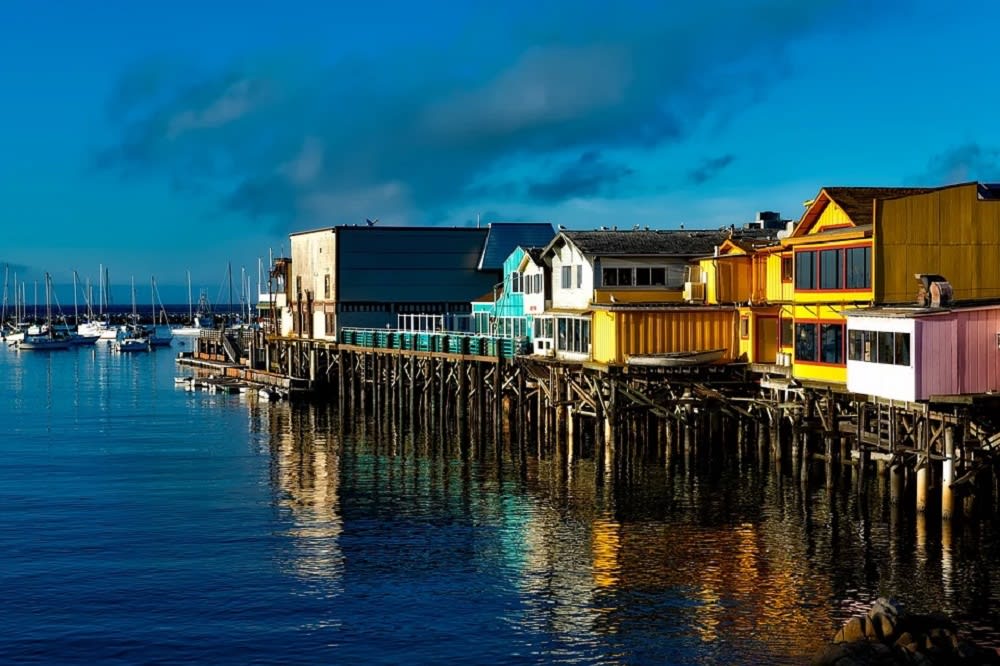 A trip to the gorgeous Monterey Peninsula wouldn't be complete without a stop at the Fisherman's Monterey Wharf. This dock has a rich history dating back to pre-Spanish colonial days. Before the 16th century, the area was inhabited by nearly 10,000 Native Americans who lived off the land's plants, bears, deer, elk, sea lions, whales, and more. In the mid-1500s, Juan Rodriquez Cabrillo was the first Euro-American known to see the Monterey Bay, calling it the Bay of Pines or La Bahia de Los Pinos.

Fast-forward to the early 1850s, Chinese fishermen arrived to pursue abalone and pioneer the California squid fishery. By the 1940s, 19 fully operating canneries harvested over 250,000 tons of sardines each season. In 1996, a substantial marina reconstruction project was finished, expanding the dock. Fisherman's Monterey Wharf has been flourishing ever since and is a significant tourist attraction.

The Wharf features 15 restaurants and fish markets, three candy shops, an ice cream parlor, a coffee shop, nine gift shops, and two fish companies. Entertainment and recreation options are vast here and include whale watching, fishing, sailing, and bay cruises. Start your day with some shopping at one of the gift shops or jewelers before undertaking waterfront activities.

If you want to bring home the daily catch for dinner, head to J & M Sport Fishing, where you'll be able to angle for rock and ling cod, Dungeness crab, sand dabs, halibut, albacore, and more. If you prefer to sail instead, visit Sail Monterey or take a tour with Princess Monterey Whale Watching to enjoy a beautiful ride on the bay while viewing whales, sea lions, sea otters, and harbor seals along the way. Three other whale watching companies are ready to guide you around the bay to view the captivating sea mammals, as well. Additionally, the wharf features various events throughout the year, so be sure to stop by for an exciting day full of Monterey Bay fun.
Forest Theater
The Forest Theater is one of the oldest outdoor amphitheaters west of the Rockies. The Forest Theatre Guild and Forest Theater were founded in 1910 by Herbert Heron and Carmel Bohemians, who wanted to provide an open-air theater where plays could be produced by "locals who also have fun doing the acting, directing, lighting, costuming, and staging," as per Heron's words. Through support from foundation grants, locals, businesses, visitors, and the City of Carmel, the guild continues to bring the magic of live performance to the community.

The Forest Theater Guild is a nonprofit organization promoting performing arts in the community through various theater productions. Each year, the guild presents quality productions at the Forest Theater, with past shows including "Hello, Dolly," "Into the Woods," "Hunchback of Notre Dame," "Pippin," and many more. If you're more of a movie buff, you'll adore the annual Films in the Forest series, featuring classic films on the big screen. A slice of history that puts culture and performing arts at its forefront, the Forest Theater is a must-visit.
Monterey State Historic Park
Monterey is one of California's most historical cities, with the first U.S. flag erected here on July 7, 1846, adding 600,000 square miles of land to the United States. The Monterey State Historic Park is a collection of notable historic houses and buildings studded throughout Old Monterey. Peer into the past on the "Monterey Walking Path of History," where you'll visit the site where Spanish explorers first landed in Monterey in 1602. Purchase tickets at the Custom House for an hour-long guided history tour. The park has many facilities and activities available, including the historical/cultural site, an Environmental Learning/Visitor Center, exhibits, programs, museums, and more. Check out Monterey State Historic Park's collection of cultural archives when you desire a broader understanding of the region's past.
Carmel Art Association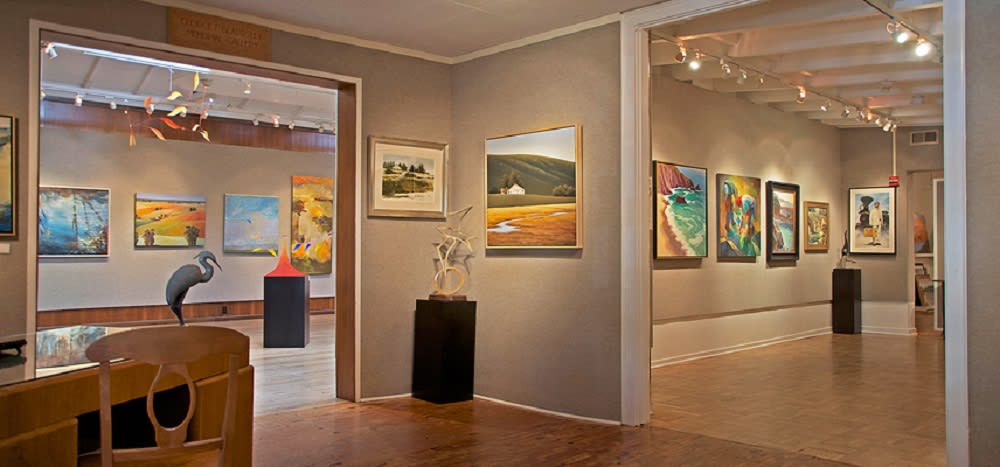 Credit: Carmel Art Association
Founded in 1927, the Carmel Art Association is one of the oldest operating nonprofit artist collections in the United States. The CAA was formed by a small group of artists who gathered at "Gray Gables," the humble home/studio of Josephine Culbertson and Ida Johnson in Carmel-by-the Sea. These 19 founders desired a greater sense of community, collaboration, and a place to showcase their work. This meeting of artists resulted in establishing an association with a mission "to advance art and cooperation among artists, secure a permanent exhibition space, and promote greater fellowship between artist and the public."

The CAA's earliest members became crucial to shaping Carmel's unique history as an artist colony. For instance, Armin Hansen and Paul Whitman founded the original Carmel Art Institute in 1937, providing education to many art students for several decades. Since the institution's beginning in 1927, over 550 artists have joined the Carmel Art Association.

Today, the CAA represents over 100 of the area's finest professional painters, sculptors, and printmakers. The Carmel Art Association features exhibits, receptions, live painting demos, talks, and more in constant rotation. Be sure to stop by this local treasure to view the many cultural and artistic contributions that continue to make Carmel-by-the-Sea the stunning town it is today.


Have you fallen in love with Carmel and want to know more about luxury Carmel-by-the-Sea real estate? Contact The Oldham Group for all of your luxury real estate needs. Andrew and Jennifer Oldham and their esteemed team of professionals will provide you with excellent service and expertise throughout your luxury real estate transaction.