Patisserie Boissiere Restaurant
If you're looking to enjoy some French and European cuisine, Patisserie Boissiere Restaurant is the place to be. People who love this restaurant rave about the beef bourguignon, French onion soup, chicken pot pie, and other delicious French dishes. The menu features many options for people of all diets, with vegetarian, vegan, and gluten-free dishes available.

The restaurant itself has a lovely, cozy vibe and was modeled after classic European chateaus. The indoors are decorated with beautiful flower arrangements, a fireplace, candles, and more. The Patisserie Boissiere Restaurant also has an outdoor sitting area, making this a great outdoor eatery that you don't want to miss. Between its food, outdoor, and indoor environment, it's known to be a wonderful place for romantic celebrations, birthdays, and other major life events.
Dametra Cafe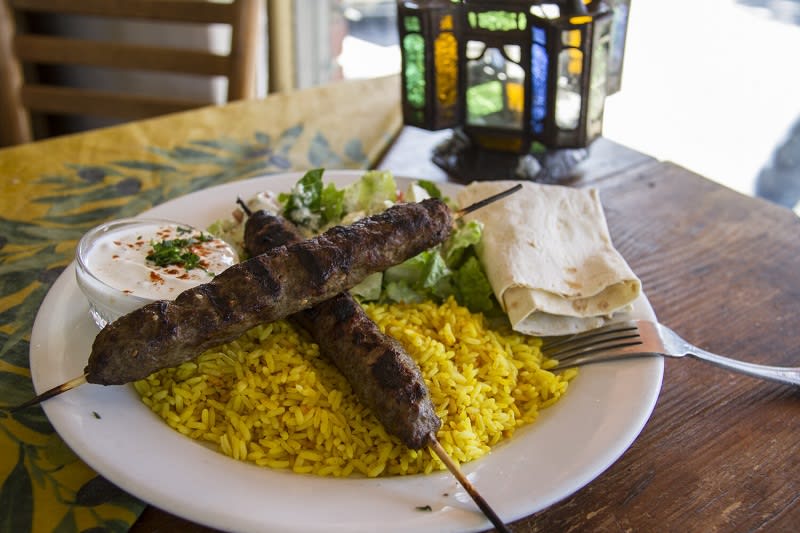 Credit: Dametra Cafe

Excellent Medditarian food in Carmel can be found at Dametra Cafe. This restaurant is known for its relaxed environment and classic Greek and Turkish dishes. Some of the best dishes you can order here are the gyros, shish kabobs, pitas, hummus, and spanakopita. Be sure to check out the extensive wine menu as well!

This restaurant also has plenty of vegetarian and vegan dishes available. With great reviews from its visitors, it's clear the Dametra Cafe features exceptional service and an overall welcoming atmosphere. The outdoor dining here is also spectacular. If you like Medditarian food, you can't miss this eatery.
Flying Fish Grill
This restaurant is a great place to dine at if you're in the mood for Asian cuisine, some seafood, and want to enjoy a great outdoor meal. Some of the dishes that people who have visited Flying Fish Grill love the most are the calamari, Alaskan black cod that comes with sesame arugula and toasted couscous, and the tempura dinner.

There are lots of great options here for vegetarians and vegans as well. The decor and environment of Flying Fish Grill reflect the food it offers, with wooden walls and decor inspired by its Asian culture. With COVID-19, Flying Fish now features a great outdoor eating area to enjoy its tasty meals.
Pangaea Grill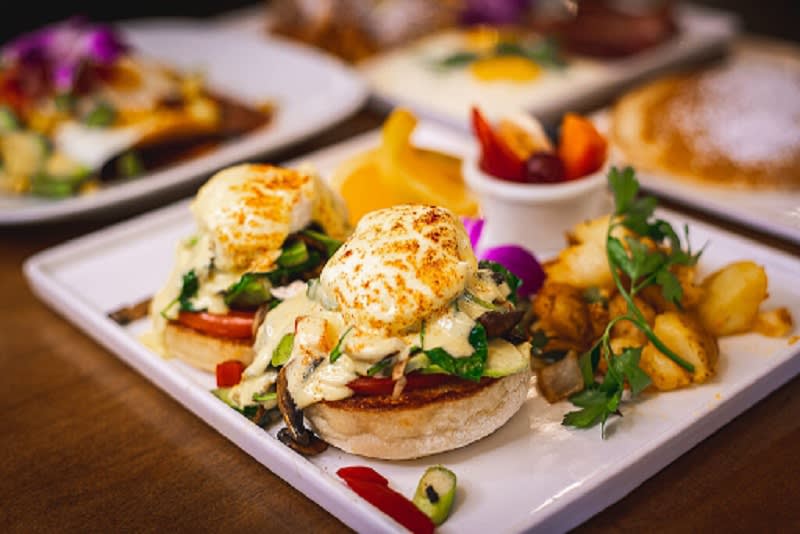 Credit: Pangaea Grill

One of the most popular restaurants that you don't want to miss in Carmel is called Pangaea Grill. It is a fusion restaurant, meaning you'll taste a variety of different flavors while dining here, most notably Korean cuisine and American cuisine. It's very inclusive of all diets, with vegetarian, vegan, and gluten-free dishes all available. Some favorite dishes include Kimchi fried rice with pork belly, coconut shrimp and scallops, poke bowls, chicken sandwiches, wraps, and so much more.

This restaurant is known for being well-priced, tasty, and having great service. Another thing people love about Pangaea Grill is its bright atmosphere. On the inside, it's decorated with lights and mirrors for a wonderful evening atmosphere. It is also an outdoor eatery that you'll love, with tables outside to take in the Carmel scenery.
La Bicyclette
A European-style restaurant is known for its woodfire, oven-made pizza, La Bicyclette uses fresh, local ingredients, and its menu changes every week to reflect the freshness. It ensures that you're eating the best, most in-season ingredients and flavors at the time. This makes for an unforgettably tasty meal. It offers lots of variety in terms of pizza, with popular flavors being Margherita, classic pepperoni, and others, depending on the season.

La Bicyclette does more than just pizza, too. You can also try some homemade bread and cheese and wines paired to match your meal. Best of all, there's the dessert menu, with the famous pot de mousse au chocolat.

La Bicyclette has been a must-eat place in Carmel for years, as it first opened up its doors in 1974. Because the menu is always changing, this means there's always something new to taste and discover here!
Seventh & Dolores Steakhouse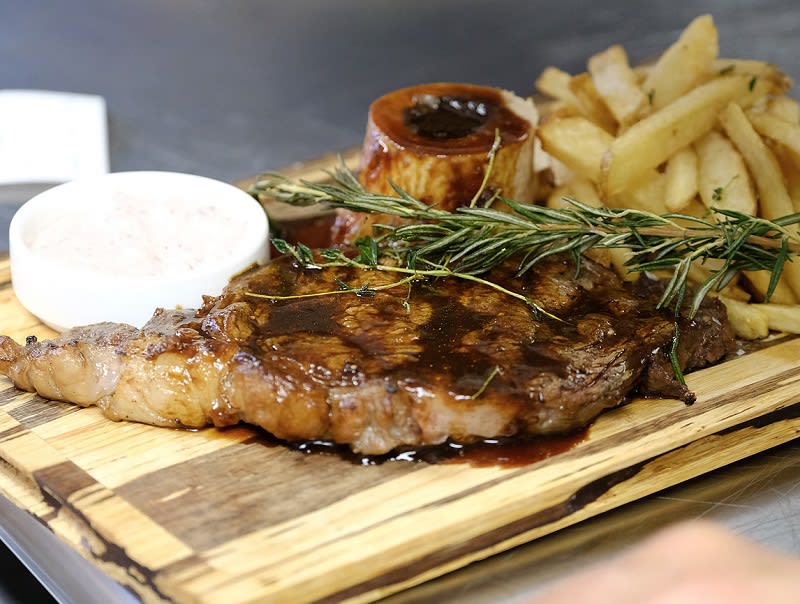 Credit: Seventh & Dolores Steakhouse

Seventh & Dolores Steakhouse is a great place to go if you're looking for a delicious steak or American cuisine. The menu changes seasonally, and it's known for its fresh ingredients sourced from the local area of California. Current menu favorites include Niman Ranch steaks, which include everything from New York strip loin, fillet mignon, prime Kansas City steak, and much more! Currently, the restaurant is available for both indoor and outdoor dining, as well as takeout and free home delivery within the Carmel area. This is a can't miss spot in Carmel if you love an excellent steak.
Mission Ranch Restaurant
Mission Ranch Restaurant is the whole package—great meals, amazing views from the patio, and good service. This restaurant has been open in Carmel for decades, and there's a reason that it's so well-loved by residents and visitors alike. Here, you will find delicious classic American dishes. Some of the menu favorites at the ranch are the prime rib, twice-baked potatoes, salmon ravioli, and much more. There's also a great wine menu with lots of options to pair with your meal.

The food is as raved about as the scenery you'll be in while you eat. Mission Ranch Restaurant is known for its spectacular views that are hard to beat anywhere else. On the patio, you'll be able to get a view of the Pacific Ocean, a meadow with sheep and other animals, and you can even see the Santa Lucia Mountains in the distance. This makes for a very unique and unforgettable dining experience that you can't miss.
La Balena
If you love Italian cuisine, you will love La Balena, one of the best Italian restaurants in Carmel. Here you can enjoy handmade pasta dishes and more. This place also has excellent seafood. Some of the menu favorites are the ricotta gnocchi, spaghetti neri, bistecca, pollo fritta, and much more. The entrees are just a portion of what you can enjoy here, as it's known for its tasty appetizers, such as soups, salads, prosciutto di parma, fried cauliflower, and more.

One of the best things about the food here is that the ingredients are sourced from local Californian farms. Beyond the food itself, the staff is known to be friendly and offer top-notch service. La Balena is a great place to enjoy an Italian meal in a fantastic outdoor environment.
Baja Cantina & Grill
Authentic Mexican dishes and cuisine can be found at Baja Cantina & Grill. This restaurant is known for its lively atmosphere and delicious Mexican dishes like tacos, fajitas, quesadillas, nachos, and more. This restaurant has a bar where you can enjoy your favorite beverages and try one of the famous margaritas! Baja Cantina is a great place to hang out with your friends, have amazing food, and watch sports games at the bar.

Adding to its fun environment is its decor, featuring lots of vintage car memorabilia, both inside and outside. At Baja Cantina & Grill, the outdoor dining experience is wonderful. You'll have the opportunity to eat on the heated patio, making for a great time to enjoy the outdoors while you eat. If you're a vegetarian or a vegan, you'll also find tasty meal options for you to enjoy here.


The can't-miss eateries in Carmel are just one of the many reasons it attracts so many visitors and residents. From luxury homes for sale in Carmel, CA to selling your home in Palo Alto or Menlo Park, contact The Oldham Group.